#nofloralfoam
I have just returned from a truly inspirational few days in Herefordshire, with Sabine Darrall on her Evergreen workshop, a short course dedicated to understanding more about foam free design. What on earth is that I hear you cry??? Well for those non florists, foam free means without the use of that green Oasis foam that is often used (by us too) in creating floral arrangements.
Bigger is better
Whilst with Sabine we (we being 14 event florists committed to furthering our skill set) created two large scale designs, a deconstructed arch and a gateway / entrance design. We also designed elevated table designs and a full tablescape.
The first image below is the 'green' version of the deconstructed arch, which was created with locally foraged foliages from Sabine's land, and locally sourced crab apples…
and the second image is after it's been fully flowered…
Harvest Supper
After a full day of design we stopped back and enjoyed a harvest supper under the fabulous tablescape. I can't even explain how nice it was to sit and enjoy the fruits of our labours for once..I'm always secretly sad to walk away once we've set the tables for a wedding breakfast or event!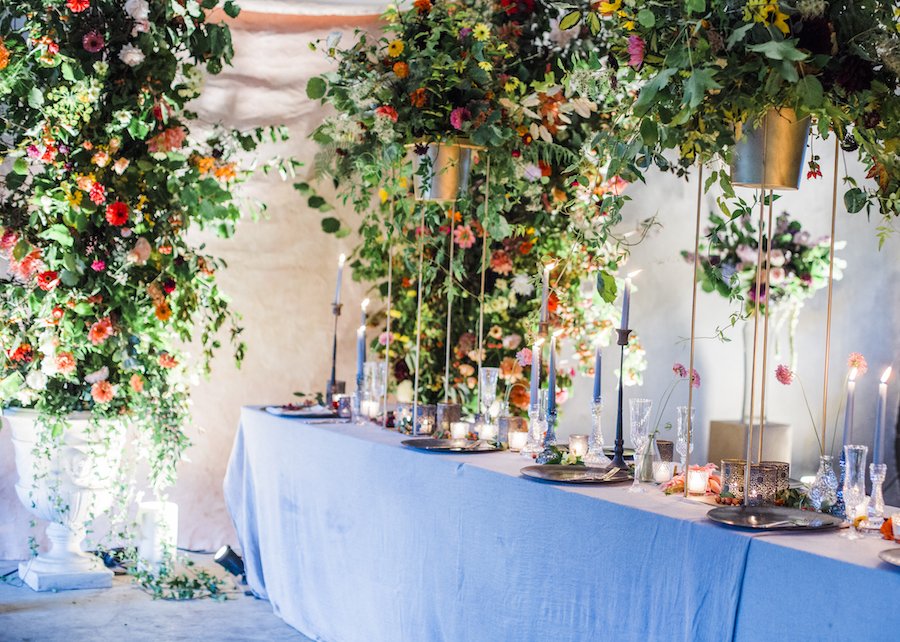 Zoro
The entrance design on day two was gorgeous, and again we were all hands to the deck to create a collaborative design. Sabine invited her wonderful rescue donkeys Gary and Bob to join us and have their own moment of glory. And what about Fran in her pretty off the shoulder dress – giving me all the Zoro feels, channelling her inner Catherine Zeta Jones! (can we also just take a moment to appreciate  Joe's natural styling of tweed and wellies – this was not an affectation – simply practical orchard outwear!)
Modern Cascade
I stayed on for a further day to enjoy the opportunity to create a modern cascade design – the design that is usually created in a small plastic holder!
Again a foam free design, and whilst embracing the chance to try new things, I thought I'd step away from my usual colour heavy flower choices and challenged myself to design something much softer, lighter and incorporating dried materials as well as some of Gloucestershire and Herefordshire finest dahlias and roses
I have to say, I was thrilled with the outcome…
Moving on
We are currently working to transition our business over to the greener side by using alternatives in our designs. We're not quite there just yet, but are certainly aiming to be as close to foam free as we can by the start of the 2019 wedding season.
The images you see here were captured throughout the three days by Sabine Darrall – you can find out more about her by clicking here.