Meet the Nadia Di Tullio Flowers team…
Nadia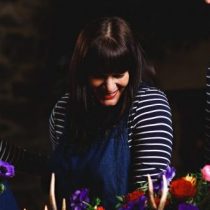 This is me, Nadia, can you tell I'm happier out the spotlight?
I fell hard for flowers around 10 years ago while studying floristry at Broomfield Hall. I've had a flower obsession since I was little and I'm hyped to work with flowers on an almost daily basis.
As a tween I desperately wanted to be a Disney animator, then as a teen studied art past A-level and on to foundation level hoping to move onto gallery curation after university. But I ran out of art steam around the age of 19 and it was only when I committed to floristry that I got my creative mojo back.
If it wasn't for flowers I would never have met (and married) my David…more about him later on.
On a personal note, I am mumma to Evelyn and Raph (and Milo the dog) I love a stripey tee, nothing beats a slab of cake – but not chocolate flavour please, I have a really bad coffee-table book habit and my favourite films are Moulin Rouge, Amalie, Beverly Hills Cop and anything by Richard Curtis!
Soraya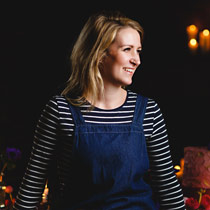 Say hey to Soraya (my RayRay of sunshine!)
This babe has been my wing woman from pretty much day one. We trained together at Broomfield Hall and have flowered our way through literally hundreds of weddings together. Soraya will often set up on site with me and will sometimes deliver bridal party flower while I set up venue – so if you see her, say hi!
Not only does she bring the good looks to Nadia Di Tullio Flowers she's also an awesome mummy and wife, bakes some serious cakes and keeps me updated on all the celeb gossip!
David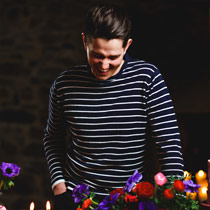 Here's David!
So David is my partner in all things (wonderful husband and daddy) and all round good guy.
He's worked with flowers since he was 20 and he certainly knows his roses from his ranunculus! While David doesn't generally design (although he's quite the master of wiring and hanging stuff) he does help with all the other aspects of the business and can also be spotted helping on set up most weekends.
He loves a good box set binge, Haribos and Dolly Parton! He's got all the cockney chit chat and all the smiles for everyone!
How we work…
I love to hear about your plans and ideas. The easiest way to get in touch is via email, including your date, venue and maybe a few images of the things you love! Once we've met for a consultation or chatted the whole scheme through, I'll provide you with an personal itemised proposal and a mood board to make sure we're visualising the same thing! If you're happy we'll get your date in the diary and start the count down to the big day!
In order to do our best work we know for  full wedding service we need a budget starting at £1500 plus delivery, and the minimum spend for weddings that fall on, or 5 days either side of, Valentines day, Mothers day, Easter Sunday, Christmas Day or New Years Eve is £2000 plus delivery.
So please don't the waste another minute, I can't wait to meet you!