Cool kids on the block
Just look at these guys!
What babe walking to the church to marry her man. Georgie looked an absolute vision in her Pronovias gown from Rococo, holding dream bundle of a bouquet featuring truly mouth watering flowers in my favourite colour palette EVER! We pushed the boat on the bouquets by using simply stunning hand died silk ribbons from Little Acorn Silks, which were a perfect match to the bridesmaids outfits. And the buttonholes were like perfect little bouquets with such pretty materials used in the mix and match selection.
Mix and match
Georgie and Charlie selected a lovely scheme for their venue dressing and chose to have a mix of high and low table decorations for the wedding breakfast, The oval top table was dressed with lots of candles and a fabulous mix of bottles and plants that matched in with the bouquet scheme. Dahlias, roses, ivy and succulents a plenty as well and gorgeous mixed oak leaves and hydrangea. All the winners!
Garden of earthly delights
If you have never visited Thornbridge Hall, and it's exquisite garden I suggested you pop along very soon! It is an amazing space, and quite the hidden gem. It makes for some amazing photo opportunities, there are so many amazing spots. It really is quite other worldly!
The couple chose to work with some of my fav suppliers – they used Hannah from Bake for their cake, and went with Mango Acoustic to keep the mood going through the reception – both who I used for my own wedding, so it was great to see them at set up time!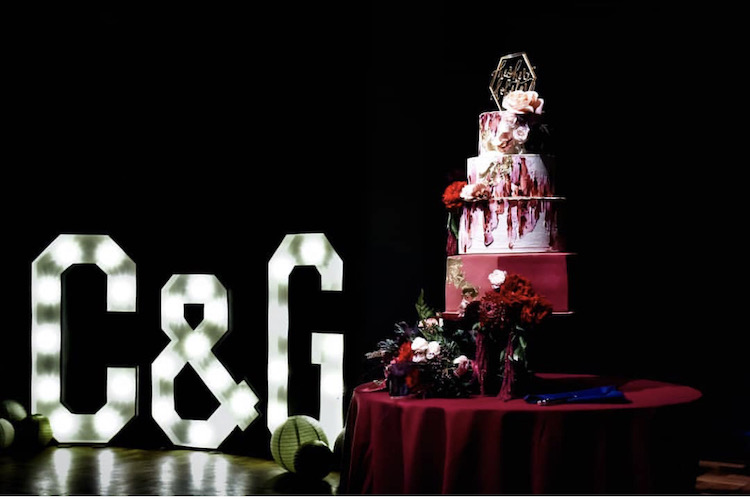 These photos were so beautifully captured by Michael at Three Six Seven Nine, another local supplier here in Ashbourne!