Long Distance Affair
My initial introduction to Anna was all the way from Japan where Anna was living at the time. She had been given my details by HBA Photography and wanted to start the wedding planning before she moved back to the UK.
I knew I'd be able to create the ideal florals for her as soon as we met. She described the look and palette I had to play with and I was smitten. Maids in navy blue mismatch, accent colours in a spectrum ranging from blush to claret, and flowers of the season including peony, rose and the most delish looking lovely grown ranunculus. It was winning on every score.
Anna and Matt wanted to marry in their local parish church and this was decorated by the lovely local ladies, so our focus was personal flowers and the marque.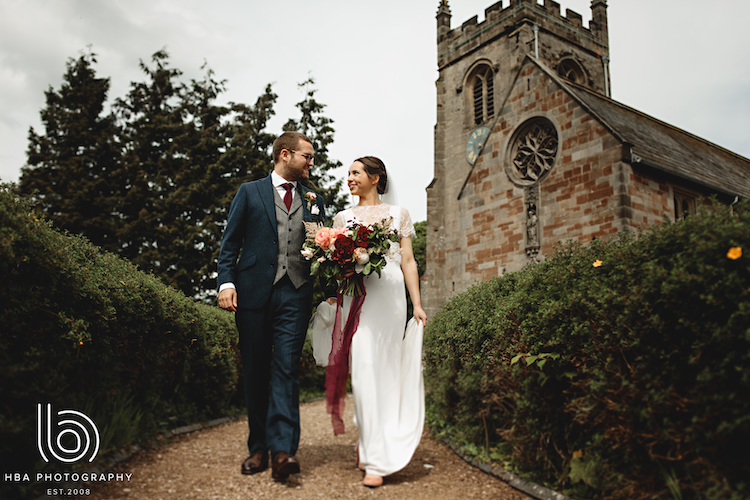 Highs and Lows
The marque was a lovely traditional style with wooden support poles, and Anna wanted to make sure these were decorated, so she added fairy lights beneath the canopy and we added floral hoops on two poles.
The entrance had lovely accents around the table plan, and the welcome decor was a lovely traditional delivery bike.
The guest tables we long trestle style – again, another of my faves! And here the emphasis was on designs with the most beautiful flowers – so so stylish compote bowls of dreamy blooms. I struggled handing these over!
The cake was provided by the dreamy Hannah at Bake and was an absolute triumph! I don't seem to have any pics to share of that but as soon as I do – I will!
And finally, these amazing images from the day are by the brilliant, and fellow award winning Derbyshire Wedding Photographers – HBA Photography!